Sponsors get ready for the new face of your 2018 World Cup commercials, Colombia's No. 10, James Rodriguez.
Since last year, most were doubtful that Colombia would actually do well in Brazil, Gabriel Gomez Jaramillo, a retired Colombian soccer player even went as far as stating that the team "won't pass the first round." To make matters worse, the then leading player of the team, Radamel "El Tigre" Falcao, was ruled out of the 2014 competition after tearing his ACL just six months before it started. According to Goal.com, the team relied too heavily on the 27-year-old star.
Many might have lost faith, but the cafeteros were ready to give the world a surprise and Rodriguez was leading the pack. In a matter of weeks, the 22-year-old went from somewhat known to worldwide breakout sensation, but how?
On Saturday June 14, Colombians and other World Cup enthusiast tuned in to their favorite sports channel to watch Colombia vs. Greece where the European nation was defeated three to zero, the third goal was made by James. With each game that passed buzz grew about the team alongside with James as the player to watch. During each match the young player scored one goal and by their fourth game, against Uruguay, he became a sensation making both goals and leading his country's team to a historic win into the quarterfinals for the very first time.
Of course, it's not just simply goals that have led him to capture worldwide attention, there's quite a bit more to this story:
Looks
Could he be any more baby-face cute?! That chiseled chin, sweet smile and boyish face are enough to melt hearts.
Leading Score-Maker

According to the DailyMail, James is in the lead against all players in the Golden Boot race, including Neymar, Messi, and Thomas Muller. He walked away with 6 goals made in five games.
Avid Social Media User
James is always in communication with fans on his official Twitter, Instagram and Facebook where he constantly posts pictures and videos thanking fans, of himself, of the team and even of his daughter and wife.
Considered The Best Player
"Diego Maradona, Lionel Messi, Luis Suarez, James Rodriguez — they do things because they have certain gifts that make them special, I believe he's the best player at the World Cup." Oscar Tabarez, Uruguayan coach, said about Rodriguez.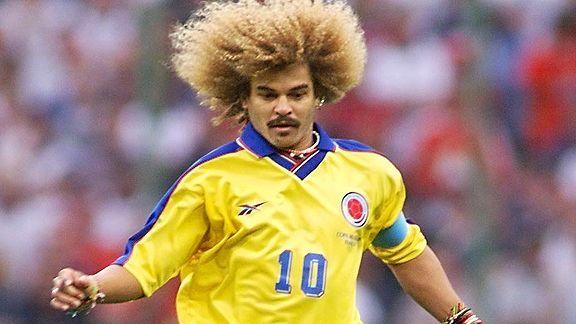 "James has the potential to be the greatest Colombian player to have ever lived," Carlos "El Pibe" Valderrama, former Colombian football player, said.
Faustino Asprilla, an ex-Colombia player from the same generation as el Pibe, also added that Rodriguez "can be the best Colombian footballer in history." 
Fun Name 
It's pronounced "Ha-Mez" and not only is the English-speaking media having a rave with how to correctly pronounce his name, according to Colombia's RCN radio, after the Uruguay game, more than 1,400 Colombian babies were named after him as well as coach José Pékerman, and teammate Jackson Martínez.
Falcao's Absence
The spotlight was already on Falcao to lead Colombia to victory, but his absence due to injury forced the talented Rodriguez to take lead of the team therefore allowing him to take center stage.
The combination of these attributes has raised Rodriguez to pop star heights both financially and in fame.
Furthermore, Rodriguez is currently playing for France's AS Monaco, but because of his World Cup stardom he is now one of the hottest prospects ripe to join one of Europe's biggest leagues. Rumors have sparked about The Premier League, Real Madrid and even Manchester United being after the player.
Rodriguez, who is now worth:­ 35 million euros (about 48 million dollars), according to TransferMarkt, has received praises not only from Colombians and other fans worldwide, but from celebs as well.
Man watching this Colombian game I think I have my fav player in the world cup! Obviously his name help that out #Biased #10 #James #WC2014

— LeBron James (@KingJames) June 28, 2014
Legend! pic.twitter.com/pKyBmfd5uq — Rihanna (@rihanna) July 4, 2014

In addition, on June 28, after the Uruguay game, he became "the most searched for player in the planet," according to Google.
King James rules the world. #GoogleTrends pic.twitter.com/h4zti1PWsA

— A Googler (@google) June 29, 2014
What do you think about the talented Colombian soccer player's sudden rise to worldwide fame? leave your thoughts in the comments below! 
Other Movie News