Oh my! So much exciting (and some hilarious) news bits in the entertainment world today! Here are the five highlights so that you are all caught up with what's trending:
5. Rupert Grint To Make His Broadway Debut: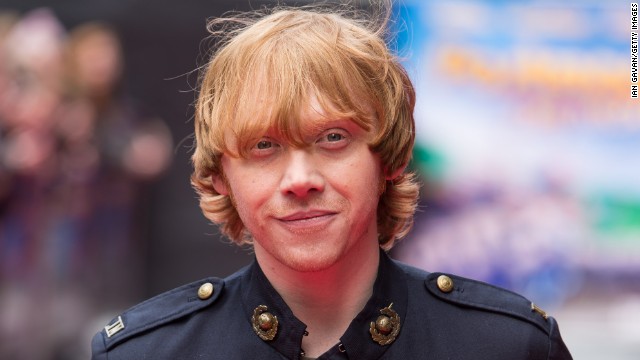 Rupert Grint, best known for his role as Ron Weasley in the "Harry Potter" film series, will make his Broadway debut this fall in Terrence McNally's comedy "It's Only a Play." The British star will play Frank Finger, the genius stage director of a new play penned by an anxious writer whose career is on the line as he waits for the reviews of opening night.
"It's Only A Play" is set for a 17-week showing at Broadway's Gerald Schoenfeld Theatre, opening Thursday, Oct. 9.
4. Meryl Streep Will Play Opera Legend Maria Callas: 
Meryl Streep will soon take on another transformative performance with the role of opera legend Maria Callas in a film version of the Tony-winning play "Master Class" for HBO, Page Six reveals.
The story takes takes place in 1971 at Juilliard where the memorable diva teaches while contemplating her astonishing career and dramatic life, which included an affair with Aristotle Onassis, Greek multimillionaire, who later left her  for Jacqueline Kennedy.
3. "50 Shades of Grey" Birthday Celebration With Jamie Dornan: 
Today (June 18), is Christian Grey's fictional birthday and to celebrate the first official still of Jamie Dornan as Grey was posted on the film's Facebook page. Enjoy!
2. Katy Perry Launches A Record Label:
Katy Perry launches record label, Metamorphosis Music, a joint venture with Capitol Records. Yesterday on her twitter account the singer announced the new venture as well as her first signee, Ferras – who has penned songs for Adam Lambert and Ricky Martin –describing him as "incredibly talented & soulful."
1. Jimmy Fallon and Kevin Hart Ride A Rollercoaster:
The most hilarious video today came from a clip by "The Tonight Show With Jimmy Fallon," where the show's host nearly brought Kevin Hart to tears, and got a bugged in the face (karma?). At Universal Studios in Orlando, the two buds "manned up" and jumped on the Hollywood Rip Ride Rockit, which according the theme park's site, goes 65 mph and towers 17 stories high.
Other Movie News